Classic tour on Dalslands Canal 3, 5 or 7 days days
Experience Dalsland in the best possible way, with a classic trip on Dalslands Canal. You also enjoy locally produced good food and drink as you stay 2 to 6 nights at lakeside hotels on the Canal.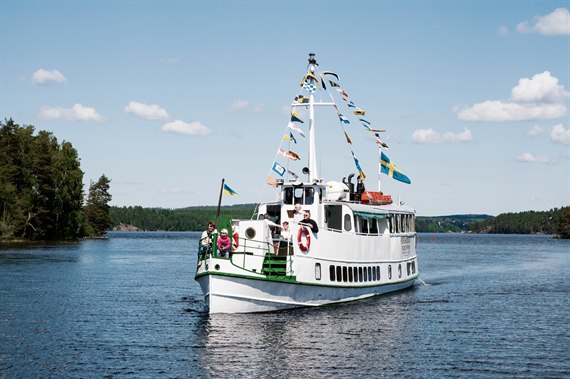 Day 1: Check-in at First Hotel Bengtsfors with access to gym, pool and sauna. Three-course dinner, sleep well in a double room and wake up to our fresh breakfast buffet.
Day 2: Boat trip with lunch on Dalslands Kanal, discover the Aqvedukt at Dalslands Center and take the rail bus back to Bengtsfors. A three course dinner in the evening.
Day 3: After a good night sleep and breakfast it is time to discover more of Dalsland.
Ordering and stay period
The package is bookable June - August.
The 3 day package
2 nights Accommodation in a Standard Double room at First Hotel Bengtsfors
2 Three-course dinners
2 Breakfast buffet
Free WiFi
Access to gym, outdoor pool and sauna
1 Ticket for a boat trip with lunch on board Dalslands Canal, Bengtsfors-Håverud
The 5 day package
2 nights at First Hotel in Bengtsfors including 3-course menu both evenings, access to sauna and outdoor pool. Visit the center of Bengtsfors for shopping, take a trip to Brända berget or a visit to Halmen's House and the candy factory.
A canal trip with lunch through Dalsland's canal, check in with 2 nights at beautiful Håverud's hotel. A 2-course dinner is served both evenings and you have access to the spa and the option to rent kayaks or sauna. Explore the Aqueduct and the Dalslands center. Return journey is with the rail bus to your car which is left in Bengtsfors.
7 day package
Add another 2 nights at beautiful Baldersnäs, here you enjoy nature paired with luxurious dinners, 3 and 5-course menus including wine packages included. Swim in Laxsjön, rent bikes, kayaks or SUP boards, take a lovely beach walk around the peninsula.